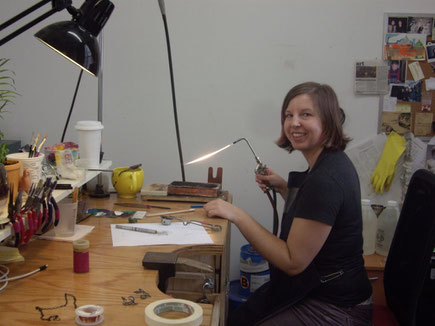 Ciao!
I don't believe I properly introduced myself in my first and previous blog so allow me to remedy that!  My name is Alexis and I recently became Manager at Jewel Envy Studio. 
 I joined the studio a month after coming back from a one year intensive Jewellery course in Milan, Italy in 2006 having previously studied at Ontario College of Art and Design.  The studio was exactly what I had envisioned in a space that I wanted to work in after finishing school, a co-operative space where a group of jewellers can share equipment and a place to display and sell our work.  My absolute favourite part of working in this space is the sharing of ideas and getting to see others work while doing my own thing.  Everyone here has such different styles and niches in different jewellery making techniques.  I find that I am continually learning to create just by seeing how other people in the studio are making things – it's an indispensible asset that I very much appreciate!  It's great to  give or receive a second opinion on a piece that you are working on.  It might sound insignificant, but I think that having that constantly around you spurs your creativity. 
Currently I am working on some large framed silhouette pieces (similar to the ones in my silhouette collection, but with more detail) that I am working to have done for the Jewel Envy Anniversary Party which is quickly approaching.  I'm really looking forward to the party, but for now I should get back to work!
Until next time,
Alexis